OUR PROJECTS » 1940-1949

70 photos
1940 Chevy Coupe owned by Jim Medley of Cadiz, Ohio
Install the customer-supplied inline (straight) six which involved relocating the customer-supplied radiator, moving the radiator filler neck, designing a pulley system, and modifying the front inner fender wells so all will fit in the engine bay. Install new drive-shaft. Install the customer-supplied Ride Tech system, new Tanks Inc. fuel tank, rerouting the fuel filler neck using the original fuel cap. Install new Haywire fuse kit. Lower the seats. Fill the firewall. Install brake system, new wiper system, and customer-supplied power window kit. Install customer-supplied brushed aluminum dash pieces, and make many more repairs and upgrades.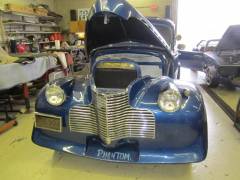 57 photos
1940 Chevy Coupe owned by Len Miller of Newton, NC.
Remove old wiring and replace with new Haywire 14 Fuse system. Install master disconnect switch. Install new Ididit column. Install a custom radio panel in the dash. Run power to the seats.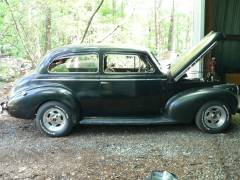 16 photos
1940 Chevy Sedan owned by Barry Rutlidge of North Wilkesboro, NC
Install new crate motor, and rebuild the transmission. Install new front-end and remount the rear-end. Install a PRC aluminum radiator, Tanks, Inc. fuel tank, Haywire 21 Fuse wiring system, MBM Brake system, Dakota Digital gauges, Ididit column, and miscellaneous repairs and upgrades.

6 photos
1948 Chevy owned by Dennis Huffman of Vale, NC
Install new MII IFS, transmission cross-member, shifter, headers, and steering column.