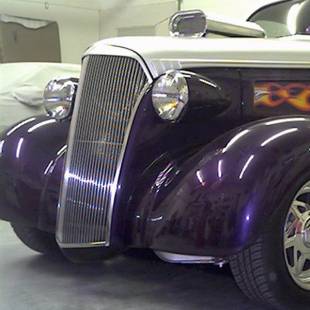 1937 Chevy Car Grill - 3/8" Spacing
This grill has 3/8" spacing and has front polish with satin sides. It is built on an original shell, so fit is exact. Most customers just bend the 12 tabs over inside the shell to hold the insert to the shell. There are 3 mounting holes down each side inside the shell. Alumicraft doesn't drill the holes in the insert for these holes because the holes from the factory are not always in the same place.

You do not need the original perimeter trim with an Alumicraft insert. If you have it, you can use it, but it is not needed. The center trim piece with grille emblem and crank hole cover is not used. You do need the stainless "crown" molding.

The car insert measures 30 1/4" top to bottom.
Availability:
Current turn around time is approximately 10-12 weeks.
Description
Other Options:
full polish
chromed
1/4" spacing between grille bars
Details
37CCGRILL

37CCGRILL
Current turn around time is approximately 10-12 weeks.
New
Categories
Shipping Information
Item Requires Shipping
$40.00
Customer Reviews
Total Reviews (1)
Excellent quality
Reviewed by: Jimy11/26/2015 12:47AM
Product ownership: A year or longer
Not purchased from:
Rutter's Rod Shop
Comments:
Alumicraft Grilles use high quality materials and the craftsmanship is outstanding. Perfect fit and have a beautiful finish. As a company/manufacturer they are outstanding. After lightly hitting a deer within a year after I finished my car the grille was damaged. I sent it back to Alumicraft and dealt with the owner directly. He replaced 3 bars on one side, 2 on the other side, straightened and re polished the entire grille and only charged me $150.00 plus shipping. That's impeccable customer service. I was thinking I was going to have to just buy another grille, but he said to send my damaged one to him and he would see what he could do to help me out. After my car being finished for almost 7 years now, the finish is still perfect and there is not one stress crack or broken tabs.
You must login to post a review.
---
May We Suggest
---