OUR PROJECTS » 1940-1949

12 photos
1940 Ford Coupe owned by William Henderson of Newland, NC Partial Body/Paint
This short term project involved repairing some body and paint completed somewhere else. It's always a challenge to determine what the previous painter did to achieve his results, such as the thickness of paint used, etc. Therefore we discourage this type of work. It turned out to be a nice looking ride despite the challenges.

70 photos
1940 Chevy Coupe owned by Jim Medley of Cadiz, Ohio
Install the customer-supplied inline (straight) six which involved relocating the customer-supplied radiator, moving the radiator filler neck, designing a pulley system, and modifying the front inner fender wells so all will fit in the engine bay. Install new drive-shaft. Install the customer-supplied Ride Tech system, new Tanks Inc. fuel tank, rerouting the fuel filler neck using the original fuel cap. Install new Haywire fuse kit. Lower the seats. Fill the firewall. Install brake system, new wiper system, and customer-supplied power window kit. Install customer-supplied brushed aluminum dash pieces, and make many more repairs and upgrades.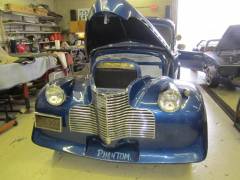 57 photos
1940 Chevy Coupe owned by Len Miller of Newton, NC.
Remove old wiring and replace with new Haywire 14 Fuse system. Install master disconnect switch. Install new Ididit column. Install a custom radio panel in the dash. Run power to the seats.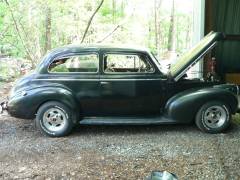 16 photos
1940 Chevy Sedan owned by Barry Rutlidge of North Wilkesboro, NC
Install new crate motor, and rebuild the transmission. Install new front-end and remount the rear-end. Install a PRC aluminum radiator, Tanks, Inc. fuel tank, Haywire 21 Fuse wiring system, MBM Brake system, Dakota Digital gauges, Ididit column, and miscellaneous repairs and upgrades.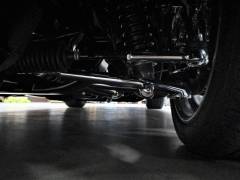 6 photos
1940 Ford Coupe owned by Mike Stewart of Salisbury, NC Partial Build
Repairs were needed on this project for it to travel properly on the road. Adjust the front and rear ride heights, install new spindles, correct springs, and correct-length coil-overs. Add grease to the upper and lower ball joints. Adjust the alignment. Install some mirrors. Polish the door hinge pins, and touch up the paint on the frame. She rides great now!

12 photos
1942 Willis Coupe owned by Tom DeNooyer of Albany, NY Partial Build
This project started out with a request from the customer to complete a detailed inspection of the Willis. This resulted in the discovery of lots of problems, but that's what we're here for! After making those repairs and adjustments we finished with a touch-up some of the painted areas as needed and she was good to go!

6 photos
1948 Chevy owned by Dennis Huffman of Vale, NC
Install new MII IFS, transmission cross-member, shifter, headers, and steering column.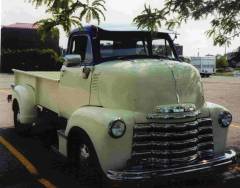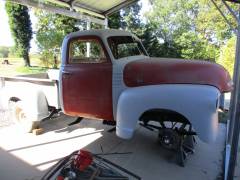 71 photos
1949 Chevy Pick Up owned by Ralph Dales of Cedar Bluff, VA. This project required a lot of metal work repair and body alignment, and we installed many aftermarket parts.