OUR PROJECTS » 1970-1979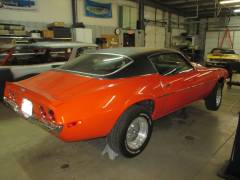 94 photos
This 1970 Camaro began as a high-end full build for Gerald Kennedy of Denver, NC. Halfway through the build he decided to sell the car. We are glad to report that it has been returned to us by the new owner to continue the build! Here are the early pictures of the beginning project when it first came to our shop up until it was transferred to the new owner.

50 photos
1970 Cuda owned by Mike Quinn of Hickory, NC.
Mike wanted his Cuda to be mechanically sound. We inspected and rebuilt the motor, inspected the transmission to find it was in good shape. We inspected, repaired and/or replaced as needed, the rear-end, plumbing, brakes, fuel tank, exhaust manifold, and some body & paint, etc.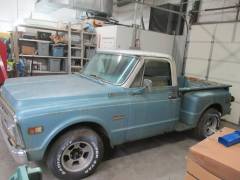 22 photos
1970 GMC P.U. Repair owned by Jennifer Pitman of Conover, NC.
This customer wanted the motor rebuilt. She also wanted us to inspect the vehicle, and after discussing our findings with her, we made some upgrades and repairs as needed.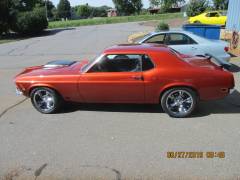 34 photos
1970 Mustang owned by Ron Jenkins.
Inspect, repair, and/or installation of mechanicals such as steering and clutch. Install new fan, troubleshoot and repair lights. Install mirrors, door seals, suspension and brakes. Fitment and the correcting the door gaps was a big issue. We were limited to what we could do since the vehicle had been already painted.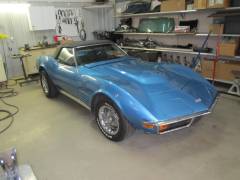 9 photos
1972 Corvette owned by Chip Hendrickson of Granite Falls, NC.
Partial Build - Rebuild motor, rebuild exhaust system, miscellaneous repairs, repair paint.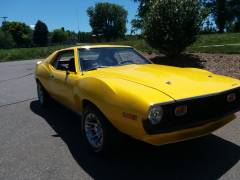 42 photos
1972 Javelin owned by Rick Wagner of Mocksville, NC.
Wire vehicle, check and repair brakes, repair ignition system, repair lighting system wiring, repair shifter handle, and install new gauge cluster with wiring.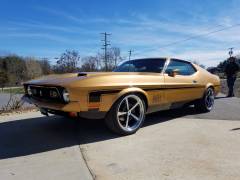 28 photos
1972 Mustang Mach 1 owned by Tim Dillow of Granite Falls, NC took 1st Place in its class at the 2019 Detroit Autorama! We fully rebuilt the entire chassis with not one bolt untouched. The car handles like a dream with the custom full 304 Stainless 3" exhaust belting out the awesome roar of the built 351C Cobra Jet. It can now be driven from coast to coast with the Vintage Air unit keeping Tim cool, while listening to a sound system that looks stock but packs Bluetooth and a wall of sound. The body has been sharpened to show off its Mach 1 badges which bring the car out of the clunky 70's and into the modern age. It rolls around on a set of 19" Forgeline FL500's that pay homage to the same wheels that originally caught Tim's eye in 1971.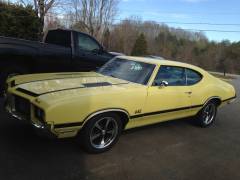 29 photos
1972 Oldsmobile Cutlass owned by T and Gerald Kennedy of Dallas, NC.
Complete build including a VIPS front runner system, Moser Ford 9" Center Section with 370 Gears and Auburn Limited Slip Differential, a killer sound and screen system, a PRC custom aluminum radiator, ididit, inc. column with push-button start, Flowmaster exhaust, new wiring, power windows and new glass all around, a Tanks, Inc. fuel tank, custom mods, plus body and paint.
Youtube video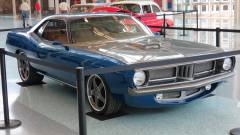 74 photos
1973 Cuda owned by Chris Reid of Raleigh, NC. The owner decided he wanted a "modern" muscle car. We were honored to feature it in the 2016 NSRA Nationals Builder's Showcase in Louisville, KY! Click on the YouTube link below to see the initial test drive.
Youtube video
(Please excuse the video quality-we're working on that.) This '73 Cuda built at our shop with many serious modifications and body and paint surely enhances the assembly line product we see so often. It sports many superior products such as a Ray Barton 528 Hemi, a Keisler Transmission kit, Strange Engineering Dana 60 rear with Tractionloc Posi 3.73 gears and 35 spline axles, Ride Tech four-bar with single adjustable coil-overs and a Firm Feel front suspension package with 12" Wilwood rear disc brakes and 13" Dodge Viper front disc brakes. Exterior Body Mods by Rutter's Rod Shop include a custom-made shaker hood scoop that stays with the hood, front and rear lower valences, removal of all marker lights, shaved door handles, tucked and shortened bumpers, a peaked belt line and custom grill inserts and emblems. Interior Mods include a custom center console, custom door panels, custom instrument cluster and custom stereo which includes JL Audio 10" sub focal speakers, Eclipse amps, a Pioneer head unit and Pioneer back-up camera with double din screen. The custom Two-Tone PPG Paint and Graphics by Rutter's sets this screamer off with style to make it a very tasteful combination of power and beauty.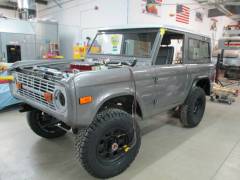 29 photos
1977 Bronco owned by Matt Punch of Newton, NC
Rewire vehicle installing a new Haywire 14 Fuse System. Install a new wiper motor kit, and new Dakota Digital gauges. Install customer-supplied column and A/C.