OUR PROJECTS » 1970-1979

50 photos
1970 Cuda owned by Mike Quinn of Hickory, NC.
Mike wanted his Cuda to be mechanically sound. We inspected and rebuilt the motor, inspected the transmission to find it was in good shape. We inspected, repaired and/or replaced as needed, the rear-end, plumbing, brakes, fuel tank, exhaust manifold, and some body & paint, etc.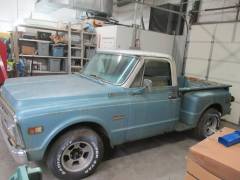 22 photos
1970 GMC P.U. Repair owned by Jennifer Pitman of Conover, NC.
This customer wanted the motor rebuilt. She also wanted us to inspect the vehicle, and after discussing our findings with her, we made some upgrades and repairs as needed.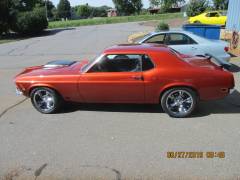 34 photos
1970 Mustang owned by Ron Jenkins.
Inspect, repair, and/or installation of mechanicals such as steering and clutch. Install new fan, troubleshoot and repair lights. Install mirrors, door seals, suspension and brakes. Fitment and the correcting the door gaps was a big issue. We were limited to what we could do since the vehicle had been already painted.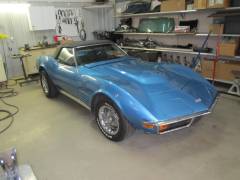 9 photos
1972 Corvette owned by Chip Hendrickson of Granite Falls, NC.
Partial Build - Rebuild motor, rebuild exhaust system, miscellaneous repairs, repair paint.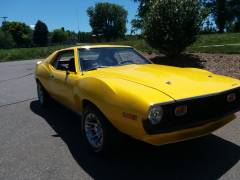 42 photos
1972 Javelin owned by Rick Wagner of Mocksville, NC.
Wire vehicle, check and repair brakes, repair ignition system, repair lighting system wiring, repair shifter handle, and install new gauge cluster with wiring.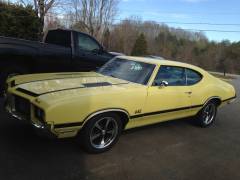 29 photos
1972 Oldsmobile Cutlass owned by T and Gerald Kennedy of Dallas, NC.
Complete build including a VIPS front runner system, Moser Ford 9" Center Section with 370 Gears and Auburn Limited Slip Differential, a killer sound and screen system, a PRC custom aluminum radiator, ididit, inc. column with push-button start, Flowmaster exhaust, new wiring, power windows and new glass all around, a Tanks, Inc. fuel tank, custom mods, plus body and paint.
Youtube video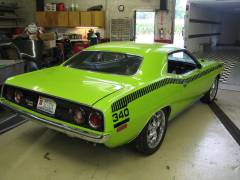 70 photos
1973 Cuda owned by Chris Reid of Raleigh, NC.
Chris decided he wanted a modern muscle car. Click on the first picture and follow as we build his dream.
Youtube video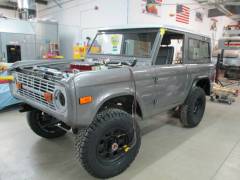 29 photos
1977 Bronco owned by Matt Punch of Newton, NC
Rewire vehicle installing a new Haywire 14 Fuse System. Install a new wiper motor kit, and new Dakota Digital gauges. Install customer-supplied column and A/C.