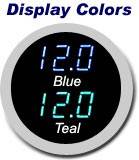 Odyssey Series II/Solarix 5 Gauge Kit
5 Gauge Kit
From Dakota Digital

5 Gauge Kit
Dakota Digital Odyssey Series II and Solarix instruments are fully backed by a Limited 24-month Warranty against manufacturer defects and provide the accuracy and performance you've come to expect from Dakota Digital!

Kit Contains:
•ODYR-01-6 / SLX-01-6 Performance Speedometer/Tachometer (MPH or KPH).
•ODYR-03-1 / SLX-03-1 Oil Pressure.
•ODYR-04-1 / SLX-04-1 Water Temperature (°F or °C).
•ODYR-05-1 / SLX-05-1 Voltmeter.
•ODYR-06-1 / SLX-06-1 Fuel Level.


*Oil Pressure, Water Temp and Speed senders included.
**Fuel level gauge reads OEM or aftermarket sensor in most applications.

*Dakota Digital Instrument systems are normally shipped from the factory with "0" miles on the odometer. If you would like mileage added to the odometer, this can be done at the factory for a charge of $20. Please contact Dakota Digital to arrange this service.










Description
Together at last, Dakota Digital Odyssey Series II and Solarix Series gauges have always been built in house and have offered all of the same features for years. To make it easier to compare, we have combined the gauges together for easier viewing. Check out the chart below for the differences:

Odyssey Series II Odyssey Solarix
•Non-Glare Teal display
•Neon Green Annunciator
(Water, Volt,...)
•Bezel Options ?Black
?Chrome


Odyssey Solarix
•High Contrast Blue display
•Blue Annunciator
(Water, Volt,...)
•Bezel Options ?Black
?Chrome



Details
ODYR/SLX-50-1

ODYR/SLX-50-1
New
Shipping Information
Item Requires Shipping
$25.00
Customer Reviews
Total Reviews (0)
You must login to post a review.
---