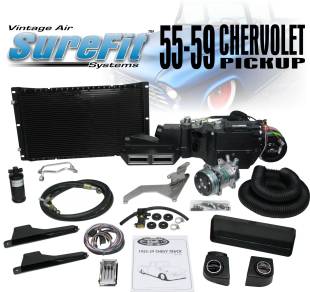 1958-1959 Chevy Truck Gen IV SureFit Complete Kit Deluxe
Complete Gen IV Sure Fit Kit for 1958-59 Chevy/GMC Advance Design Trucks
With deluxe controls

The 1955-59 Chevy Pick-Up Gen IV™ is Vintage Air's most powerful and intelligent climate control system. The Gen IV uses an exclusive fully electronic microprocessor control system and eliminates cables or vacuum connections. Separate high capacity copper parallel-flow heat coil and aluminum plate and fin cooling coils provide outstanding performance and instant temperature adjustments. This new Chevy Pick-Up Sure Fit™ system includes a replacement control panel that bolts in the stock dash location. Additional features include variable blower speed and dash/floor/defrost blend. SureFit Systems™ are engineered specifically for each vehicle application and require absolutely minimal alteration to the vehicle for installation.


AUTHORIZED VINTAGE AIR DEALER!

Description
- Fully electronic operation - No cables or vacuum controls

- The Standard system includes a 3 Knob rotary control panel that bolts in the stock dash location for electronic operation

- The Deluxe system includes a back-lit 3 Lever control panel that bolts in the stock dash location for electronic operation


- Micro-processor controlled coil temperature monitor.No capillary tube to install!


- Separate high capacity heat and cool coils


- Aluminum plate/fin A/C coil (most efficient evaporator design available)


- Copper/brass parallel flow heater coil


- Blend air door for instant temperature adjustment


- Infinite dash / floor air blend (in most applications)


- Infinite defrost / floor air blend with dedicated defrost option

- All Gen IV systems allow for optional smooth firewall configuration (must use modified hose kit)


- Positive shut off solenoid operated heater control valve in max A/C




Vintage Air – Questions to consider:
1. What is your vehicle make, model and year?
2. How much room do you have behind the dash?
3. What is your engine?
4. Do you already have Factory Air or Non-Factory Air?
5. Electronic Kit or Cable Kit?
6. Do you have Headers? Yes or No If yes, what kind?
7. Do you have an Electric Fan? Yes or No
8. Do you have a short or a long water pump?
9. What side is the alternator on?
10. What is your Radiator position? 6 cyl or V8 Position
11. Do you want a Polished compressor? Yes or No
12. Would you like a Standard finish (black) or Chrome drier? Yes or No
13. What type of control panel do you want? Base or Upgrade (See V.A. Catalog p.43)
14. What type of knobs do you want? (See V.A. Catalog p. 55)
15. What size & style vent louvers do you want? (See V.A. Catalog p. 52, 53, 54)


Shipping Information
Item Requires Shipping
$175.00
Customer Reviews
Total Reviews (0)
You must login to post a review.
---