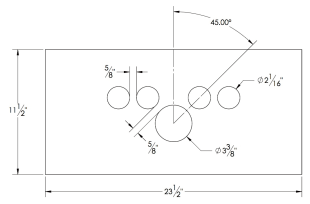 Click on image to zoom
Dash Panel Insert Gauges Spread over Speedo - Steel
This is your chance to create your own gauge cluster. What is the hardest part of installing gauges in your old or custom dash? Buying the hole saws, filling the old holes, and laying out the new gauges with the correct spacing! The holes are cut into the center of an 11-1/2" x 23-1/2" piece of material. This allows you to trim the shape you want and either screw or weld the new piece into your dash. The steel insert is made for you to weld into your dash. The aluminum and stainless inserts are made for you to screw into your dash. You can cut any shape you want for the outside edge. Then, trace onto your old dash. Cut out the old dash on the inside of your line. Remember to leave enough material for the insert to lay on and where the screws go. This new screw in panel allows you to access your gauges and you never have to lay on your back and try to get up behind your dash to fasten and wire the gauges.
Shipping Information
Item Requires Shipping
$15.00
Customer Reviews
Total Reviews (0)
You must login to post a review.
---