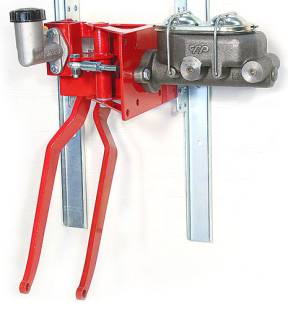 90° Under Dash Brake Pedal Assembly With 1" Bore Cast Iron M/C and Clutch Reservoir
Perfect for a smooth firewall application. These under dash master cylinder brackets can be used in a number of ways with several different masters and clutch masters. This listing includes a 1" brake master and standard clutch reservoir.
Clean Floor, No Exhaust Worries, Out of Sight... are just a few reasons to use a reverse 90° under dash brake setup. See picture with measurements for the reverse 90° Under Dash brake. Picture is shown with universal mounting brackets. They are available on the main page.
Shipping:
Shipping is an estimate for delivery.
Details
Shipping Information
Item Requires Shipping
$65.00
Shipping is an estimate for delivery.
Customer Reviews
Total Reviews (0)
You must login to post a review.
---