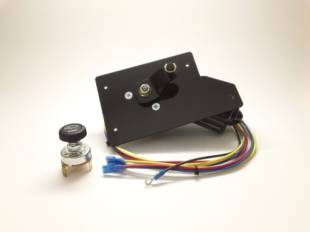 1968-1979 Nova Car Wiper Kit
The latest in wiper technology available from New Port Engineering is the Clean Wipe Wiper Drive for the 1968-79 Chevy Nova. This kit will bolt in and replace your old original single speed or 2-speed motor. Standard features are an extra heavy duty 2-speed self parking motor, mounting bracket, wiring harness, rotary switch and mounting hardware. Optional features include an intermittent delay switch for operation like your late model car and a washer pump kit to keep the windshield clean of bugs and dirt.
The switch shaft extension option will only work with the 1968 year Nova.
For the 1969-79 models the provided switch will not fit in the stock location without modification to the original mount. We recommend mounting the switch in a hidden location and keeping the stock switch in place on these models.
The kit comes with a 3-year Warranty. Quit relying on the OEM or rebuilt motor from the auto parts store, buy a New Port wiper drive and never be afraid to drive in the rain again!
Not Available
Shipping:
Shipping is an estimate for delivery.
Description
The Clean Wipe Wiper Drive is a true bolt-in replacement for your original equipment vacuum or electric windshield wiper motor. Each model of the Clean Wipe Wiper Drive is designed for the specific year and model of vehicle.

Wiper drives attach to the stock mounting brackets.

Designed for attachment to O.E.M. wiper transmission or cable drums.

Our kits are 12 volt. If your vehicle is 6 volt, you will need a power inverter from the options page.

Each kit comes complete with nylon bushings to replace the rubber grommets in the wiper transmission linkage arms. (when required)

Clears Stock Cowl Vent and Air Conditioning
Shipping Information
Item Requires Shipping
$29.00
Shipping is an estimate for delivery.
Customer Reviews
Total Reviews (0)
You must login to post a review.
---