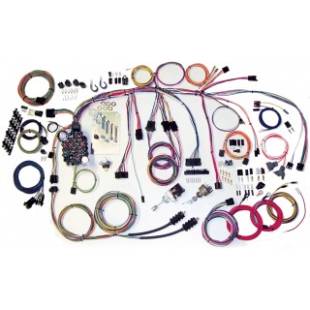 Click on image to zoom
1960 - 1966 Chevy & GMC Truck
Complete Wiring Kit - 1960-1966 Chevy Truck For

Chevrolet Truck 1960
Chevrolet Truck 1961
Chevrolet Truck 1962
Chevrolet Truck 1963
Chevrolet Truck 1964
Chevrolet Truck 1965
Chevrolet Truck 1966
Standard turn signal flasher, hazard flasher, and horn relay mounted on fuse panel.
Fuse box and custom mounting plate are designed for bolt-in under dash installation. All required hardware supplied. Location selected for easy accessibility and clearance of under dash accessories such as all gauge packages, wiper systems, heating and air conditioning systems, and stock original or aftermarket GM tilt steering columns.
New floor dimmer switch is provided. Wire length and connection accommodate original floor mount dimmer switch.
Instrument Cluster wiring is designed with a "cluster harness disconnect" system for easy service and assembly. All original terminals, connectors, and light sockets are also supplied for original cluster gauges. However, the best aspect to the disconnect system is that any gauge cluster package can be easily and neatly wired in. This includes AUTOMETER, CLASSIC INSTRUMENTS, DAKOTA DIGITAL, STEWART WARNER, and VDO, just to name a few.
Along with wiring for your original dome/interior lighting we have included separate under dash light sockets.
Heater control panel lighting, power, and blower motor leads are included for original style heaters as well as aftermarket heat and AC updates such as HOTROD AIR, VINTAGE AIR, etc. Connections are also wired in for the glove box and cigarette lighter.
Engine wiring includes connectors for points type and H.E.I. distributors. Power and tach connectors supplied for GM H.E.I. distributors. Alternator connectors are supplied for GM "SI" series internal regulated and all "one wire"alternators. GM "CS" series alternator connector available separately.
Front lighting includes extra long leads for special routing when custom under hood appearance is desired. All headlight, park light, and directional light connectors and terminals are provided, as well as a switched trigger wire for electric fan relay (usually recommended with AC).
Replacement headlight switch with internal circuit breaker included. Retention collar nut, adjustable length shaft, and custom knob are also included. Extra connectors and instructions are supplied for installation of original headlight switches.
If you choose to install a late model GM steering column with the ignition switch in the column we include the correct connectors for that as well!
Steering column connectors will plug directly into most aftermarket steering columns as well as 1969 and later GM columns which utilize stock GM turn signal switches. The original column can also be wired by using the supplied mating connector and terminals.
New ignition switch is included. Additional connectors and instructions are provided to use the original ignition switch or column mounted ignition switch..
Engine wiring includes starter and gauge sender leads for water temp, oil pressure, voltmeter, and tach. Heavy 8 gauge alternator leads are supplied. Power circuits are fusible link protected.
Rear body harness assembly is designed to plug into the main harness in the original position utilizing existing retainers. Flexibility in harness design allows for original or custom routing. Both pickup and suburban models are accommodated. Rear body wiring includes backup light wires and mating connectors for backup light leads. License plate lead, connectors, and terminals included. Fuel tank sender wire and terminal included. Leads and terminals included for jamb switches and dome light.
Color schematics and easy to understand installation instructions included.
Shipping:
Shipping is an estimate for delivery.
Description
Rutter's Rod Shop also offers unparalleled customer support. If you have a question, you call us, not some random support line.
Shipping Information
Item Requires Shipping
$60.00
Shipping is an estimate for delivery.
Customer Reviews
Total Reviews (0)
You must login to post a review.
---