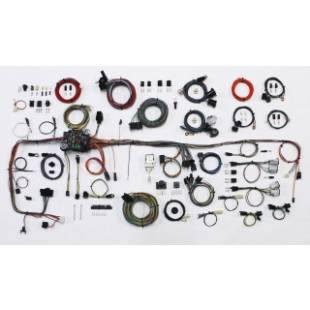 Click on image to zoom
1983 - 1987 Chevy & GMC Truck
Details
Classic Update Kits give you one of the most complete kits on the market to "Make Wiring THAT Easy". They are designed for specific year, make, and model configurations. The 1983-87 Chevy / GMC Truck Kit is no exception. The kit boasts 12 features making it the most complete system of its type in the industry including:

A replacement headlight switch with internal 25-amp circuit breaker, adjustable length shaft, and custom knob.
Standard turn signal flasher, hazard flasher, and horn relay mounted on harness.
Fuse box designed to fit in original location with no mods to the firewall. All required hardware supplied. New ATO fuse panel allows for easy fuse and circuit breaker accessibility. Harness is laid out and formed to allow for nearly all after market accessories such as; gauge packages, wiper systems, heat and air conditioning systems, etc.
Steering column connectors can plug directly into most aftermarket steering columns or stock 1975 and up GM columns. Can also be mated to earlier columns using the adapter and terminals included in the kit.
Separate under dash courtesy lamp assemblies are also included for use along with your original dome/interior lighting feeds.
Instrument Cluster wiring is designed with a "cluster harness disconnect" system for easy service and assembly. Original terminals and connector that will plug into the original gauge cluster (another American Autowire exclusive) are provided. The system will also connect into most popular aftermarket gauges such as DAKOTA DIGITAL, CLASSIC INSTRUMENTS, AUTOMETER, VDO, and others.
Rear body harness assembly plugs into the main harness at the main bulkhead disconnect location and our longer leads allow for stock or custom routing of the wires. Rear body wiring includes backup light lead wires and connectors along with stop and tail light lead wires and connectors. License plate lamp lead connection, as well as the fuel tank sender lead connection is also included.
Original style lamp sockets and side markers for fleet side and original style molded connections for step side rear lamps are included.
Engine wiring includes feeds for coil, tach, water temperature, oil pressure, electric choke, and electric speedometer (if needed). A heavy gauge alternator feed and fusible link are also included for any typical high output 1 wire or internally regulated alternator. Connectors supplied for power and tach leads for GM style H.E.I. distributors along with various oil and temp senders.
Front lighting includes extra long leads that can be routed for stock or optional appearances. All head light, parking light, and directional light leads, along with a switched trigger wire for an electric fan relay (usually recommended with AC) are provided. Mating terminals and connectors are also provided for you to complete your custom installation.
New parking lamp socket and side marker lamp sockets are also included.
Supports both single and dual headlight models.
Shipping:
Shipping is an estimate for delivery.
Description
Rutter's Rod Shop also offers unparalleled customer support. If you have a question, you call us, not some random support line.
Shipping Information
Item Requires Shipping
$65.00
Shipping is an estimate for delivery.
Customer Reviews
Total Reviews (0)
You must login to post a review.
---