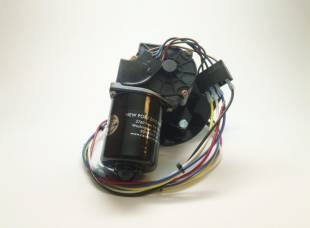 Click on image to zoom
1960-1966 Chevy/GMC Truck Wiper Motor Kits
New Port is proud to present a true bolt in replacement wiper motor for the super popular classic 1960-66 Chevy C-10 pickup trucks. The original motor was good when it was new but why trust your safety and your investment with 50+ year old technology. The New Port Wiper utilizes a heavy duty sealed electric motor tested to over 1 million cycles, oil-lite bronze bushed drive shaft housing, stainless steel output shaft, and heavy duty powder coated steel bracket construction. For this kit we didn't just build it, we over built it so it will be one of the strongest components of your truck. The kit also includes an easy to wire wiring harness from the motor to the switch simply requiring a power and a ground circuit, foam gasket, and mounting hardware. The base price includes our 2-speed kit. But you can easily upgrade to either the 2-speed washer switch or the intermittent delay switch. Make New Port your last wiper motor purchase for your 1960-66 Chevy C-10 and never be afraid to drive in the rain again.12 volt wiring is required.

****NOTE***** This truck came with 2 different types of wiper motors. The difference is how they mount. You will see in the selection of photos a picture of a stock mounting bracket. This style of mounting bracket has threaded holes and is bowl shaped. It will match up to this style of motor and part number. If you do not have this bracket in your truck then you have the flat mount wiper motor and need the NE6066CTF part number.

If you have any questions please call before ordering.
Not Available
Shipping:
Shipping is an estimate for delivery.
Description
The Clean Wipe Wiper Drive is a true bolt-in replacement for your original equipment vacuum or electric windshield wiper motor. Each model of the Clean Wipe Wiper Drive is designed for the specific year and model of vehicle.

Wiper drives attach to the stock mounting brackets.

Designed for attachment to O.E.M. wiper transmission or cable drums.

Our kits are 12 volt. If your vehicle is 6 volt, you will need a power inverter from the options page.

Each kit comes complete with nylon bushings to replace the rubber grommets in the wiper transmission linkage arms. (when required)

Clears Stock Cowl Vent and Air Conditioning
Shipping Information
Item Requires Shipping
$29.00
Shipping is an estimate for delivery.
Customer Reviews
Total Reviews (0)
You must login to post a review.
---