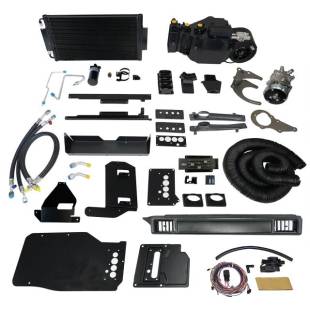 Click on image to zoom
1980-86 Ford F-Series/Bronco V8 without Factory Air Gen 5 Sure Fit Complete Kit
The Gen 5 is Vintage Air's most powerful and intelligent climate control system. The Gen 5 uses an exclusive fully electronic microprocessor control system that eliminates cables or vacuum connections. Separate high-capacity copper parallel-flow heat coil and aluminum plate-and fin-cooling coils provide outstanding performance and instant temperature adjustments.

Additional features include variable blower speed and dash/floor/defrost blend.

**Complete kits include everything in the evaporator kit, plus all under-hood components such as compressor, engine brackets, condenser with brackets, preformed refrigerant lines, drier, fittings, hardware and installation instructions.

Engineered to cool your vehicle faster than ever
Improved diagnostics and advanced systematic fail safes
Multiple mounting options for an easier installation
Rubber well-nut mounting points for improved NVH isolation
Separate high-capacity A/C and heater coils with blend air door for rapid vent temperature adjustment
OEM block-type expansion valve
Injection molded case for optimal precision, strength and quality
Injection molded blend air doors with integral rubber seals
Removable access covers for coil service
Interchangeable defrost and floor heat plenums for increased mounting flexibility
Powder coated steel mounting brackets
Quiet high-performance blower
Bolt-in replacement control panel
Shipping:
Shipping is an estimate for delivery.
Description
Vintage Air – Gen IV Questions to consider:
1. What is your vehicle make, model and year?
2. How much room do you have behind the dash?
3. What is your engine?
4. Do you already have Factory Air or Non-Factory Air?
5. Electronic Kit or Cable Kit?
6. Do you have Headers? Yes or No If yes, what kind?
7. Do you have an Electric Fan? Yes or No
8. Do you have a short or a long water pump?
9. What side is the alternator on?
10. What is your Radiator position? 6 cyl or V8 Position
11. Do you want a Polished compressor? Yes or No
12. Would you like a Standard finish (black) or Chrome drier? Yes or No
13. What type of control panel do you want? Base or Upgrade
14. What type of knobs do you want?
15. What size & style vent louvers do you want?
***Please answer these questions when placing your order, or call us for assistance.***

Shipping Information
Item Requires Shipping
$175.00
Shipping is an estimate for delivery.
Customer Reviews
Total Reviews (0)
You must login to post a review.
---