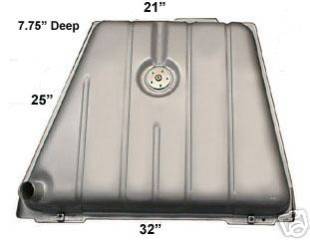 Click on image to zoom
1949-1951 Mercury Coated Fuel Tank
We having a running comment here at the shop that we must be the Kings of the 1949-51 Mercury Tank as we seem to sell ALOT of them. Just like everything else from Tanks Inc this is a Great Quality Product. We've sold and used many of these through the years to nothing but good reviews.

The Only Baffled Repro Tank on the Market!
* Die-Stamped Galvanized Alloy
* 3/8" OD Pickup Tube
* Caged Mounting Nuts
* Stock Dimensions
* Stock Capacity
* Accepts all 5-hole Aftermarket Senders - Such as SW, VDO, Classic, Sun, etc.
NOTE: If you need a high-pressure in-tank fuel pump for fuel injection, this tank uses Tanks, Inc. PA-Series Module.



Description
Tanks, Inc. AUTHORIZED DEALER!
Email or Call (704) 462-1050 with questions.
Shipping Information
Item Requires Shipping
$50.00
Customer Reviews
Total Reviews (1)
1951 Mercury fuel tank installation
Reviewed by: Ken08/05/2013 10:29AM
Product ownership: Less than 1 month
Purchased from: Rutter's Rod Shop
Comments:
This installation went exactly as planned, however if you have dual exhaust you will likley need to move the left side tail pipe out of the way. I just pulled it over, and down and it was enough clearance. Also the rear mounting holes may need to be slotted somewhat. The large rubber fuel inlet hose will need to be installed after installation,makes life a lot easier. There is room at the trunk hole opening to get a 1/4" ratchet in the hole next to the hose to tighten the hose clamp after the fact. The 3/8" fuel outlet connection will need to be reduced if this is a stock car installtion. I am very happy with the fit, and finish of this product. It took about four hours start to finish, after the tank was drained.
You must login to post a review.
---
---