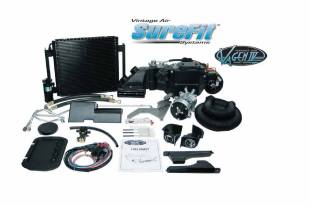 Click on image to zoom
1957 Chevy Gen IV SureFit System with Center Vent
Vintage Air Surefit Series 1957 Chevy Gen IV Complete Kit with Center Vent
Gen IV SureFit System Features:
- Fly-By-Wire fully electronic servo motor controls with no cables or capillary tube to route.
- Infinite "just right temperature" air blending
- Infinite blower fan speed adjustment (3-speed fan on the 1957)
- High volume dehumidified defrost mode
- Separate high capacity aluminum plate & fin cooling coil
- Copper/Brass Cuprobraze parallel flow heater coil
- Mounting behind the dash
- The use of your factory system controls with Vintage Air's exclusive Electronic Cable Converters
- Flat steel firewall cover panel (Stamped OEM style on the 1957)

NOTES:
1.Vintage Air's Tri-five Chevy Sure Fit kits include Tite Fit compressor hard lines. Lines are now re-routed through core support and drier mounts behind. These kits may be upgraded to include their polished Tite Fit line kit and their popular polished Proline compressor /alternator bracket.
2.If you are using a cross-flow radiator see Vintage Air's condenser kit.
3.Some installations may require additional engine pulleys not included with kits. You must provide pulleys, v-belts and refrigerant.
4.If you are retaining the original 265 or 283 V8 engine in your car you may need to upgrade the harmonic balancer and pulleys. You will need to upgrade from the generator to an alternator.
Description
AUTHORIZED VINTAGE AIR DEALER! KIT PHOTO SHOWN IS WITH THE CENTER VENT.

Should you buy a "Complete Kit" Or An "Evaporator" Kit?
"Evaporator" kits include: Evaporator and bracket, louvers (when required), duct hose, wiring harness, new controls or Cable Converters, hardware and installation manual. Essentially all the components and accessories for the inside of the vehicle.
The "Complete Kit" is just as it sounds and includes: Everything that is in the "Evaporator Kit" plus all under-hood components such as compressor, engine brackets, condenser with brackets, pre-formed refrigerant lines, drier, fittings, hard- ware and installation manual. We recommend ordering a complete kit for reliability and optimum performance.

Vintage Air – Gen IV Questions to consider:
1. What is your vehicle make, model and year?
2. How much room do you have behind the dash?
3. What is your engine?
4. Do you already have Factory Air or Non-Factory Air?
5. Electronic Kit or Cable Kit?
6. Do you have Headers? Yes or No If yes, what kind?
7. Do you have an Electric Fan? Yes or No
8. Do you have a short or a long water pump?
9. What side is the alternator on?
10. What is your Radiator position? 6 cyl or V8 Position
11. Do you want a Polished compressor? Yes or No
12. Would you like a Standard finish (black) or Chrome drier? Yes or No
13. What type of control panel do you want? Base or Upgrade (See V.A. Catalog p.43)
14. What type of knobs do you want? (See V.A. Catalog p. 55)
15. What size & style vent louvers do you want? (See V.A. Catalog p. 52, 53, 54)

Shipping Information
Item Requires Shipping
$175.00
Customer Reviews
Total Reviews (0)
You must login to post a review.
---