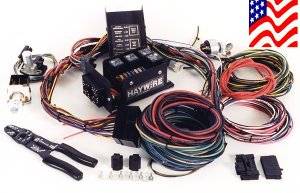 Click on image to zoom
Deluxe 7 Fuse Wiring System
Built-in grounding system for steel or fiberglass bodies, GM color coded and labeled wire, high quality GXL UL listed moisture and solvent resistant wire. Comes with a large selection of heat shrink butt and ring terminals for moisture resistant connections. Easy to follow instructions included.

The standard fuse circuits for this product are:
Brake Lights
Park Lights
Instruments
Radio Accessories
Radio Battery
Headlights
Dash Light
Wipers
Horn
Turn Indicators
Emergency Flasher
Fan Relay.

This product also includes the following:
Tachometer Lead
3rd Brake Lead
Headlight Connectors
Alternator Plugs
Neutral Safety Relay
Anti-Theft Switch
Headlight Switch
Ignition Switch
Dimmer Switch
HEI Plugs
GM Column Plugs
Heat Shrink Terminals
Fusible Links

Haywire's 7 Fuse Panel was designed for roadsters, T-buckets and nostalgic's. Harness is complete with installed ground wires. This product is for a column ignition and column dimmer. 7 fuses and 10 circuits. Size is 7" L X 3" W X 3.5" H.

Description
NOTE: The cover shown in photo is no longer included.
Shipping Information
Item Requires Shipping
$27.00
Customer Reviews
Total Reviews (0)
You must login to post a review.
---