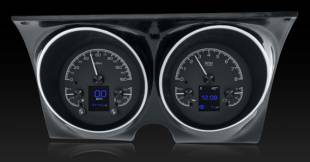 Click on image to zoom
1967-1968 Camaro Analog HDX
Available with your choice of black or silver alloy gauge-face styling, each HDX system allows the user to select independent illumination colors for the gauge readings and needles, as well as the message centers. Calibration and personal settings are manipulated with the built-in, capacitive-touch buttons, or the available Bluetooth app for Apple and Android devices. Each needle hub is black nickel plated spun-aluminum to match the buttons. All HDX instrument systems feature dead-faced indicators (turn signals, high beam, check engine, cruise control, parking brake, plus two user-definable), and a red, settable warning light for each gauge. With our central control box, installation is greatly simplified with vehicle-harness sourced signals and supplied, solid state sending units connecting cleanly to their respective terminal. Click the tabs below for a more in-depth look at the HDX series!

*Bezel not included, shown for visual/presentation purposes.
System uses OEM or reproduction style bezel.

* Instrument system eliminates the stock automatic gear shift indicator immediately above steering column. To display gear position, add GSS-2000 Gear Shift Sensor (sold separately)
Description
Analog Gauges

Speedometer
·0 -160 MPH (optional metric version 0- 260 kmh)
·Split scale provides resolution of a 120MPH speedometer, with a top end range of 160MPH.
Tachometer ·0- 8,000 RPM
Oil Pressure ·0- 80 psi
Water Temperature ·100- 260ºF (optional metric version 40- 120ºC)
Fuel Level ·E, 1/4, 1/2, 3/4, F
Voltmeter ·9- 17 VDC
Digital Message Centers

Standard Displays
·Odometer (One time user settable, Million Mile)
·Dual (A/B) Trip Meter (0- 9,999.9)
·Clock (12 hour)
·Estimated Range/ Miles to Empty
Performance Meters
·0- 60 MPH Timer (0- 100 kmh)
·1/4 and 1/8 mile time
·1/4 and 1/8 mile end speed (trap speed)
·High speed recall
·High RPM recall
Gauges
·Speedometer (0- 255 MPH/kmh)
·Tachometer (0- 9,990 RPM)
·Oil Pressure (0-100 psi displayed in 1 psi increments)
·Water Temperature (100- 300ºF/ 40- 150ºC displayed in 1 ºF/ºC increments)
·Voltmeter (9- 17 VDC)
·Fuel Level (0-99% full)
Built-in Indicators

Indicators
·Turn Signals (Left/ Right)
·High Beam
·Check Engine
·Parking Brake
·Cruise Control (On/ On & Engaged when vehicle is equipped)
·Gear Position (Optional GSS-2000 sensor required)
·4 x 4 (When vehicle is equipped)
·Wait to Start (When vehicle is equipped)
·Two Auxiliary input indicators with user-programmable labels
·Each analog gauge sweep contains a red LED indicator for quick notice of a warning condition (except speedometer)
Lighting Technology

Colors ·Over 30 user-selectable color options allow you to independently change the needle color, sweep color and digital TFT display color.
Brightness ·Both daytime and nighttime brightness can be easily controlled through the HDX setup menu, allowing you to choose your preferred lighting intensity level, toggled by the activation of the headlight switch. If on-the-fly rotary type control is desired, the DIM-1 is a common accessory to add this functionality.
Themes ·With 12 factory preset color themes, you can quickly create a beautiful looking system. Or, for the ultimate in customization, choose all of the color zones yourself.
Technology ·Full LED backlighting provides a strikingly visual gauge package, with sharp contrast for ease of viewing both night and day. Full RBG backlighting allows you to create the specific color you want, with a unique daytime and nighttime theme if desired. Whether your goal is an OE look or something truly bold, the HDX Series lets you make that choice.

Details
HDX-67C-CAM

HDX-67C-CAM
New
Shipping Information
Item Requires Shipping
$45.00
Customer Reviews
Total Reviews (0)
You must login to post a review.
---